PERFECT TAN TANNING STUDIO EQUIPMENT
Our tanning salons use tanning equipments manufactured by and imported from Sportarredo – Italy. Sportarredo, founded 1979 in Venice (Gruaro), is recognized worldwide as one of the leaders in high pressure tanning technology. In the beginning, the Company began manufacturing and distributing tanning equipment and particularly focused on the application of the emerging high pressure technology to tanning. It slowly became one of the points of references in the development of this technology. By the mid eighties, Sportarredo had become specialized in the manufacturing of High Pressure Tanning equipment. Perfect Tan is proud to be the first tanning salon to bring in a High Pressure Tanning bed ("the MasterSun 360") in Shanghai as we believe that in line with international tanning trends, professional tanning salons must have high pressure tanning beds to satisfy their intermediate to advanced tanning customers. Research supports the fact that high-pressure systems do provide a deeper, darker and longer-lasting tan when compared to low-pressure systems. This occurs because longer wavelengths of UVA generated from High Pressure tanning machines penetrate deeper into the skin than do shorter wavelengths of UVB wavelengths (generated from low pressure lamps - tube style) and, therefore, are able to oxidize melanin granules farther away from the surface of the skin. These deeper-oxidized (tanned) granules take longer to reach the surface of the skin and allow for a deeper tan with a longer life. In fact, your tanned melanin will continue to rise to the surface over several weeks.
Mastersun 360 - Ultimate Bronzing System (High Pressure Tanning Machine)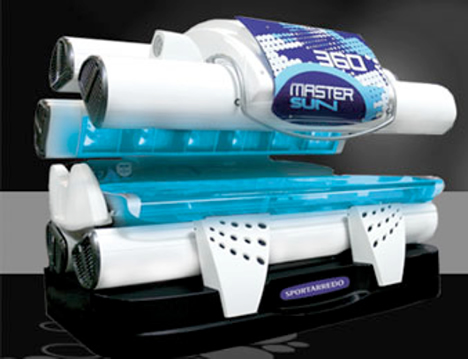 This is the ultimate …. the flagship and most advanced model from Sportarredo, using the latest technology with the most advanced design and heat exhaust system on the market. With the tanners who are looking for more results without all the damaging rays, this unit will give both instant results of a VHR tube lamp and the longer, deeper tan of a high pressure. New patented technology has been designed in this unit to be able to achieve these incredible tanning results.
VegaLux Open 51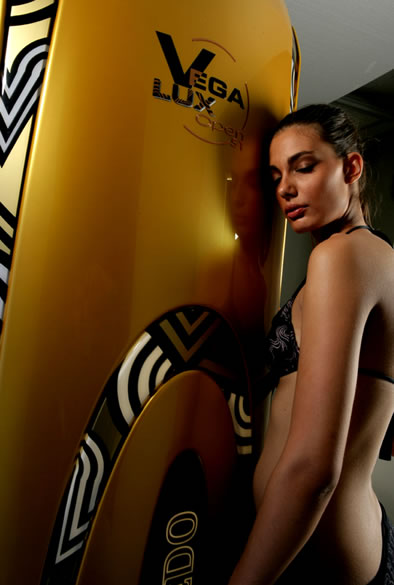 The Vega Lux Open 51 is a low pressure tanning machine from Sportarredo. It is highly rated and popular with the tanning community. A crowd favourite, the Vega Lux solarium comes packed with a state-of-the-art ventilation system for maximum comfort. Equipped with premium lamps all-round, the 360-degree tanning experience offered by the Vega Lux promises an even, balanced tan that's sure to leave you kissing goodbye to all your unwanted tan lines. The Vega Lux also features a digitized control panel and an in-built music player for your grooving to the beat. We are confident that it will provide you with a beautiful tan in a comfortable environment.